Lochana Durgada Vijayakumar (Lochan_DV) PEGA
Senior Manager, Knowledge Management
Pegasystems Inc.
IN
Posted: September 23, 2019
Last activity: March 24, 2020
Posted: 23 Sep 2019 5:27 EDT
Last activity: 24 Mar 2020 10:06 EDT
Closed
Ask the Expert - Accessibility with Meghan Atkins & Chris LaChance
Join Meghan Atkins (@MeghanAtkins) and Chris LaChance (@lachc) in this Ask the Expert session (30th Sept - 4th Oct) on Accessibility!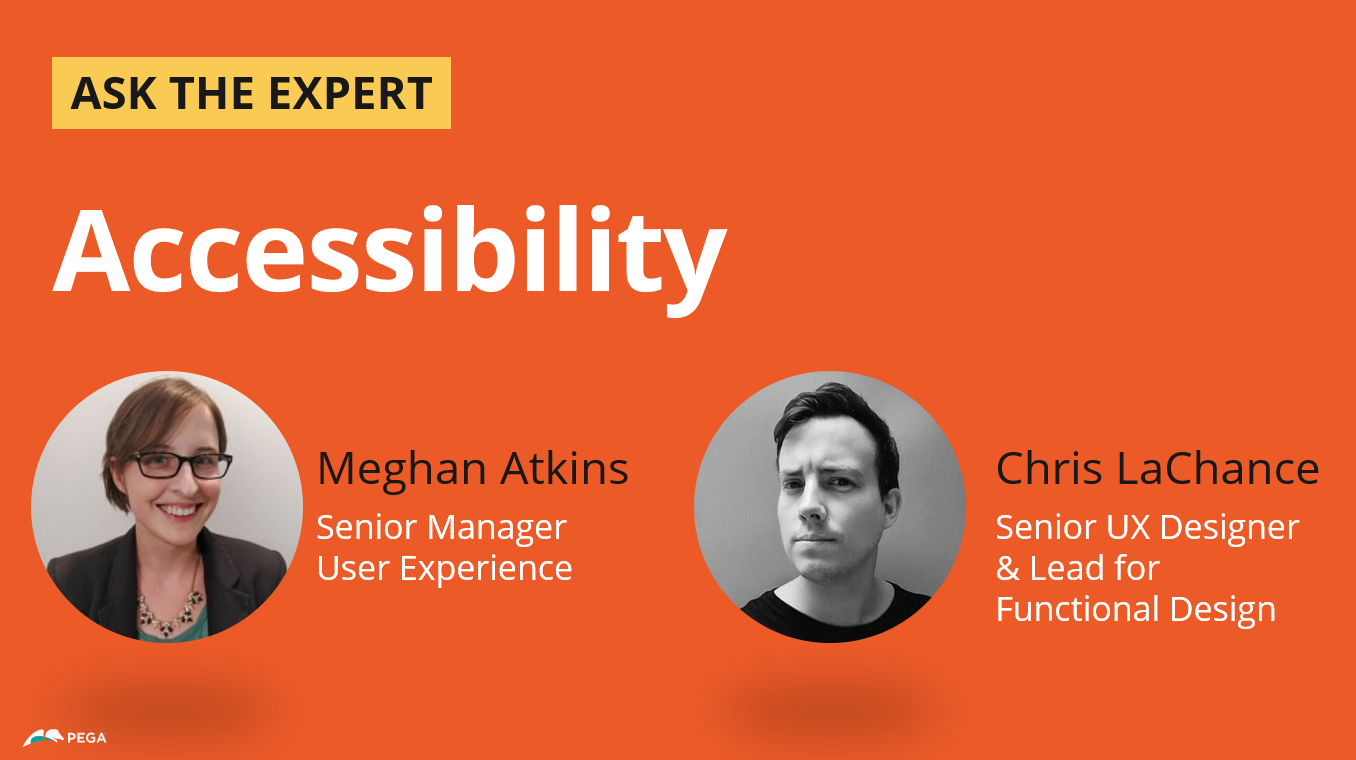 Meet Meghan: Meghan Atkins has been in the tech industry for around 15 years and has been working at Pega since 2012. She is currently a Senior Manager of Software Engineering where she leads multiple US-based engineering teams that are responsible for the User Interface and Reporting features in the Pega platform. Passionate about technology and people, she enjoys creating tools that are both easy to use and that make life easier for those that use them. As part of this she advocates for accessibility within her teams and has also worked on some of the accessibility tooling offered in the Pega platform.
Meet Chris: Chris LaChance has been a professional UX Designer for 15+ years and has worked with global organizations such as BMW, and Subaru of America. As a passionate accessibility expert, he has given talks (Achieving Accessibility Compliance: Design and Testing Best Practices), written whitepapers (Demystifying Application Accessibility and Testing), and coordinated Pega's first-ever Accessibility Summit last year. Chris actively pursues, promotes, and champions the latest international accessibility standards, and additionally tests with actual users that require assistive tech to further identify issues where compliance falls short of usability. Chris is currently serving in the Product UX group as the Lead for Functional Design.
Message from Meghan & Chris: Hi all! Chris and I love talking about and promoting accessibility within the software space. We are more than happy to answer any question you may have on the topic such as tooling, testing and accessibility standards. It really is just one more way our products build for change; showing empathy for our clients, regardless of ability.
Ask the Expert Rules
Follow the Pega Support Community's Community Rules of Engagement
This is not a Live Chat - Meghan/Chris will reply to your questions over the course of the week (30 Sept - 04 October)
Questions should be clearly and succinctly expressed
Questions should be of interest to many others in the audience
Have fun!