 Marissa Rogers (MarissaRogers) MOD
Senior Knowledge Management Specialist
Pegasystems Inc.
US
Posted: February 26, 2021
Last activity: July 14, 2021
Posted: 26 Feb 2021 14:50 EST
Last activity: 14 Jul 2021 14:40 EDT
Closed
Ask the Expert - Pega Express - The Prepare Phase
Join Anthony Kirkham @AKirkham and Jason Ferguson @fergj as they answer your questions in our second session of Pega Express Ask the Expert series!
Ask your questions now, save this to your Favorites and join us March 8th - March 15th here in the Pega Collaboration Center!
Be sure to check out our 1st session: Ask the Expert - Pega Express - The Discover Phase that opened Monday, March 1st!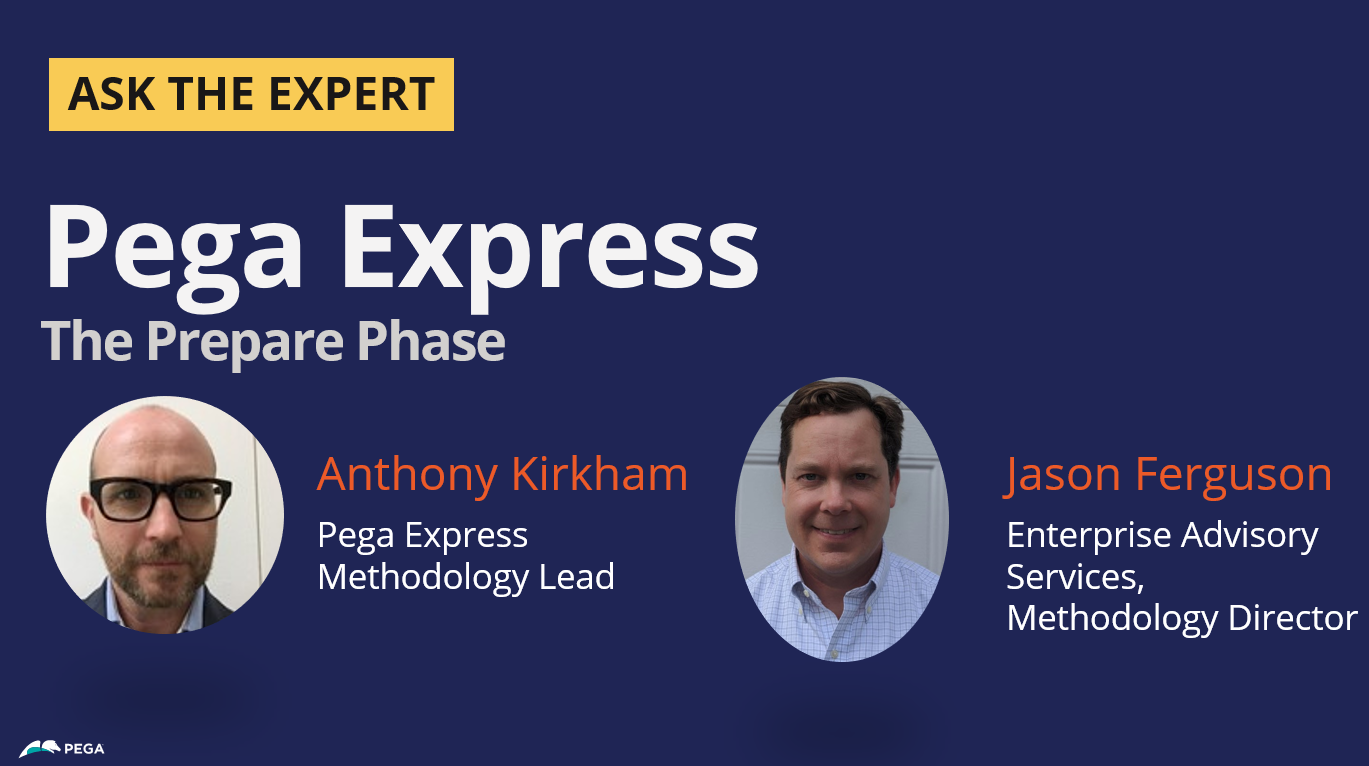 Meet Anthony:
Anthony has over 20 years' experience delivering solutions to clients of all shapes and sizes, starting working life as a developer in the UK. He is now based in Sydney and is 5 years into his Pega journey. He spent 3 years as a Project Delivery Lead (PDL) before joining the Pega Express team in 2019. Anthony enjoys helping to drive the adoption of best practices and supporting clients, partners and Pega colleagues to achieve great things with Pega.  
Meet Jason:
Jason joined Pega in 2013 as a Lead Business Architect within Professional Services. He was promoted to a Principal Business Architect in 2017 and held this position until joining Enterprise Advisory Services in 2019 as a Methodology Director. In his new role, Jason provides thought leadership and instruction to business and IT leaders on maturing their project delivery practices through staff identification and enablement on Pega technology and the adoption of an agile methodology paired with Pega best practices.  
Message from Anthony and Jason:
Hi Everyone, we are excited to be answering your questions about the Prepare phase of the Pega Express approach! This phase is where the project kicks off, the solution is designed, governance is established, and you start creating a backlog of user stories ready for the build phase. Prepare and starting properly is critical to the success of any project, so we looking forward to hearing your Prepare phase questions!  
***Edited by Moderator Marissa to change Product from Pega Express to Pega Platform; add Pega Express Platform sub-capability tag***