 Marissa Rogers (MarissaRogers) MOD
Senior Knowledge Management Specialist
Pegasystems Inc.
US
Posted: March 30, 2021
Last activity: July 14, 2021
Posted: 30 Mar 2021 13:08 EDT
Last activity: 14 Jul 2021 14:40 EDT
Closed
Ask the Expert - Pega Express - The Adopt Phase
Join Bandita Joarder @BanditaJoarder  and Iain Tollemache @IainTollemache  as they answer YOUR questions in our final Ask the Expert series on Pega Express: The Adopt Phase.
Gather your questions now, save this to your Favorites and be prepared to join us for our 1-week session April 5th - April 12th here in the Pega Collaboration Center!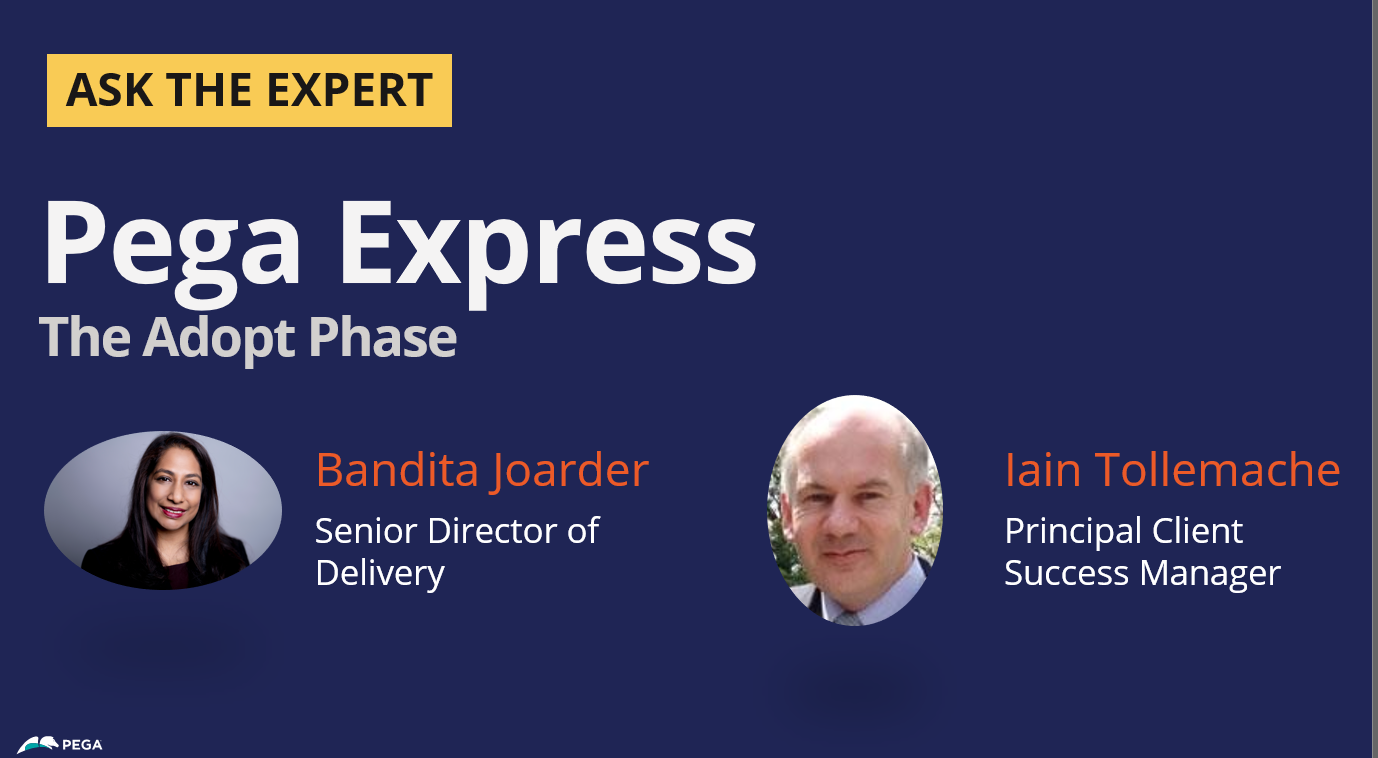 Meet Bandita:
Bandita Joarder is a Senior Director who leads the Pega Express Team, who have developed and refined our approach using input from the field, product, our partners, and our clients to ensure success. Prior to Pega, Bandita was Director of Business Programs, Adoption and Change Management at Microsoft where she spent nearly a decade managing a portfolio of client adoption services, enabling field teams on enterprise strategic practices worldwide. Before that, Bandita worked for several technology and consulting firms—including McKinsey & Company, Sapient Corporation, SAP, and Thomson Reuters.  Bandita graduated from MIT in Mathematics with Computer Science, audited courses at the London Business School, and is a Prosci change management certified instructor.
Meet Iain:
Iain Tollemache is a Principal Client Success Manager (CSM) who works in the UK looking after client success for clients in the Public Sector. Iain has been a part of Pega now for 14 years initially working as Pega Delivery Lead and then helping clients with self-sufficiency, standards and best practices forming community of practices / centre of excellence in his role as Enterprise Advisory Consultant. As CSM Iain helps clients with change management, adoption of best practices, innovation and product knowledge and delivering solutions that are quickly adopted by the users with great user experience to realise the benefits and outcomes desired. Key to this is how Pega Express defines upfront, day 1 go-live and ongoing adoption and value realisation and continued improvements on subsequent Minimum Lovable Products (MLP). 
Message from Bandita and Iain:
Hi Everyone, we are excited to be answering your questions about the Adopt phase of the Pega Express approach!
This phase is where all your hard work comes together, you finalize your business readiness activities, you go live and then monitor your application to confirm it achieves your original business outcomes! Hopefully along with a good celebration you should also start to firm up your next release minimum lovable product. It's a very busy phase so we look forward to hearing from your and responding to your adopt questions!
Previous Sessions:  
Ask the Expert - The Discover Phase
Ask the Expert - The Prepare Phase
***Edited by Moderator Marissa to change Product from Pega Express to Pega Platform; add Pega Express Platform sub-capability tag***