 Johan Grande (GrandeJ1) Sopra

Sopra
FR
Posted: Jun 11, 2015
Last activity: Jun 17, 2015
Posted: 11 Jun 2015 4:48 EDT
Last activity: 17 Jun 2015 11:31 EDT
Closed
ActiveX issue trying to auto-generate test cases
Hi,
I'm using Pega 7.1.7 in IE 11.
I'm trying to auto-generate test cases for a decision table. I open the "Record New Test Case" window, then I select "Auto generate Test Cases" and click Generate Test Cases. When the "New Rule Instance" window opens, I get a warning dialog that says [the French version of]:
"One or more ActiveX controls could not be displayed because either: 1) Your current security settings prohibit running ActiveX controls on this page, or 2) You have blocked a publisher of one of the controls. As a result, the page may not display correctly."
When I close the dialog to access the "New Rule Instance" window, is says "Dynamic Menus Control Load Failure!" at the top and the "Create" button doesn't seem to do anything: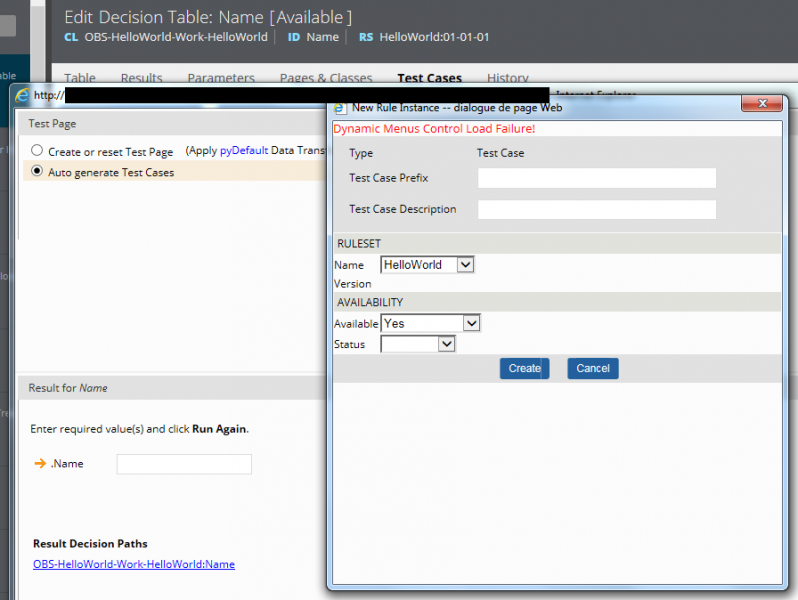 I tried to put the address of my Pega server in IE's list of trusted sites and to activate anything ActiveX-related for those, but this didn't help.
What can I do?