Marissa Rogers (MarissaRogers) MOD
Senior Knowledge Management Specialist
Pegasystems Inc.
US
Posted: February 6, 2017
Last activity: February 17, 2017
Posted: 6 Feb 2017 9:08 EST
Last activity: 17 Feb 2017 16:43 EST
Closed
Ask the Expert - Mobile with Stephanie Louis and James Hall
Join Stephanie Louis and James Hall here on the Product Support Community for this edition of Ask the Expert on Mobile.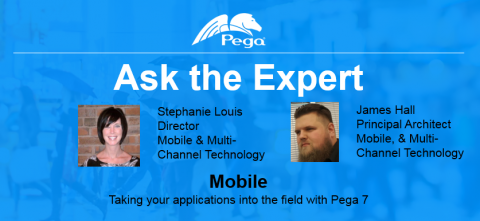 Stephanie leads the mobile and multi channel groups at Pega. She started at Pega before there was a mobile offering, so has been responsible both for bringing the initial offering to market as well as maturing the solution and keeping up with the latest mobile trends. She helped lead the Antenna acquisition and has been responsible for integrating the technologies into the core platform.
Meet James:
James is a Principal Software Engineer of Mobile, Offline and Multi-Channel. He came to Pega in 2009 as a Senior Software Engineer of UI with the acquisition of Chordiant. James was the tech lead of the engineering team that first started working on mobile technology at Pega and has been involved with many aspects of UI, Mobile, Offline, Case Management and Multi Channel.
Message from Stephanie & James:
Hello! We are looking forward to answering your questions about mobility. Pega Mobility has evolved quickly since the initial introduction and has a lot of advanced capabilities including offline. Please feel free to
ask
any general mobile questions, implementation and how to questions, as well as anything specific to offline. We will be happy to share our knowledge and experience with you to help enable you to build best in class mobile apps!
Ask the Expert Rules
This is not a Live Chat - Stephanie & James will reply to your questions over the course of this two-week event
Questions should be clearly and succinctly expressed
Questions should be of interest to many others in the audience
Share this page
Facebook
Twitter
LinkedIn
Email
Copying...
Copied!