Reza Zulfarhan (rzulfarhan) PT Asuransi Simas Jiwa

PT Asuransi Simas Jiwa
ID
Posted: April 25, 2017
Last activity: April 26, 2017
Posted: 25 Apr 2017 22:12 EDT
Last activity: 26 Apr 2017 2:51 EDT
Closed
ORA-29532: Java call terminated by uncaught Java exception: java.lang.OutOfMemoryError When Run Report Definition
Hi,
I have an error ORA-29532: Java call terminated by uncaught Java exception: java.lang.OutOfMemoryError when i run report definition.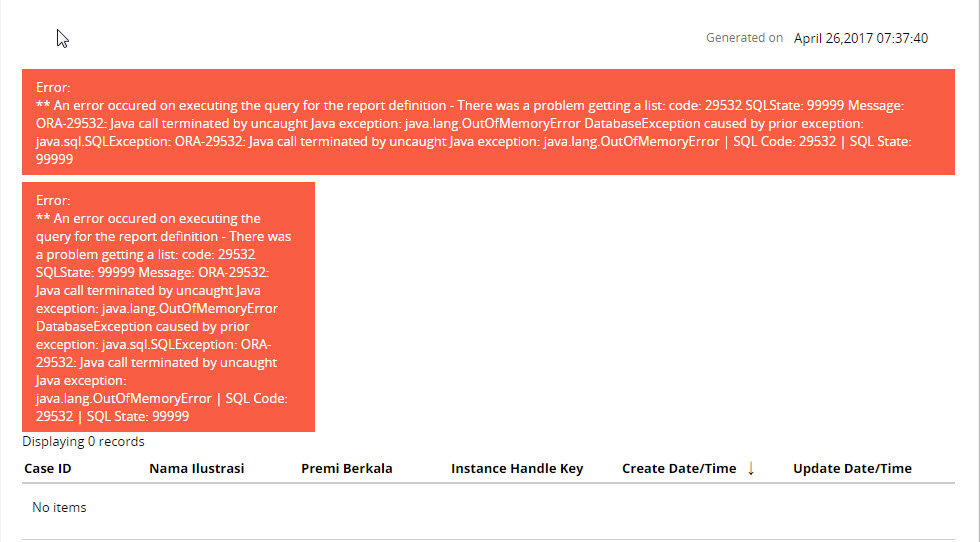 This my application server (JVM memory) setting and server have free memory ~8Gb after prweb.war deployed.
JAVA_OPTS="-Xms16g -Xmx18g -XX:PermSize=16g -XX:MaxPermSize=18g"

I use Oracle Database 11g Enterprise Edition Release 11.2.0.1.0 - 64bit Production, JDBC driver 11.2.0.4.0 and lastest Tomcat 7.
What can i do for solving this problem?
Thank you