Posted: Oct 13, 2015
Last activity: Oct 4, 2018
Posted: 13 Oct 2015 22:16 EDT
Last activity: 4 Oct 2018 11:08 EDT
Closed
How to set repeating grid "Row visibility" condition (7.1.9)
Current repeating grid control does not provide an option to control row visibility conditionally, instead, there is an option "Grid visibility" which controls entire grid visibility.
Since the entire "Grid visibility" could be controlled by the layout which contains the repeating grid control, "Row visibility" option is more useful than "Grid visibility" option in my opinion.
There are some work around to deal with this issue, for example:  Hide rows in a repeat grid using a bit of code in an inline style
However, it would be more convenient if repeating grid control provide a "Row visibility" option.
**Moderation Team has archived post**
This post has been archived for educational purposes. Contents and links will no longer be updated. If you have the same/similar question, please write a new post.
Share this page
Facebook
Twitter
LinkedIn
Email
Copying...
Copied!
Posted: 14 Oct 2015 1:57 EDT
Sounds great! Which ML will contain the enhancement?
Posted: 14 Oct 2015 10:35 EDT
Last time i noticed this in ML6. Which version are you checking on ?
Posted: 14 Oct 2015 17:04 EDT
The screen shots that I posted in the original message was from ML9.
Posted: 14 Oct 2015 17:05 EDT
Can you check If row in not set to inline editing.
Posted: 14 Oct 2015 17:35 EDT
Do you mean that "Grid visibility" option actually controls the row visibility provide the grid is in read only mode?
Posted: 14 Oct 2015 17:55 EDT
Posted: 14 Oct 2015 18:35 EDT
Great! I need to change the title of this post.
Posted: 14 Oct 2015 18:38 EDT
That's why i asked to check If row in not set to inline editing
Posted: 14 Oct 2015 19:27 EDT
I wish the inline editing restriction could be dropped in the future. At least for page group property sourced repeating grid.
Posted: 14 Oct 2015 20:06 EDT
It's available on the click to edit option, I can understand the rationale:
When a user clicks off a row they are actively posting that row, in which case subject it to the visibility condition.
If always editable is turned on, when would the expectation be to apply the visibility?
Posted: 15 Oct 2015 3:21 EDT Siripurapu (ShanmukhaSiripurapu)
Hi Chunzhi,
Will it be helpful for you to set the 'Edit Options' at the cell level to 'Read only (expression)' or 'Read only (when rule)' so that you can display some rows in editable mode based on your conditions.
Regards,
Shan
Posted: 15 Oct 2015 6:16 EDT
Hi Shan,
The topic of this thread is about the Row Visibility, not about edit mode.
Posted: 15 Oct 2015 22:01 EDT
It seems "Row visibility" condition does not render screen gracefully, there are huge gaps between rows.
If using JSP tag work around to specify in-line style, screen renders perfectly.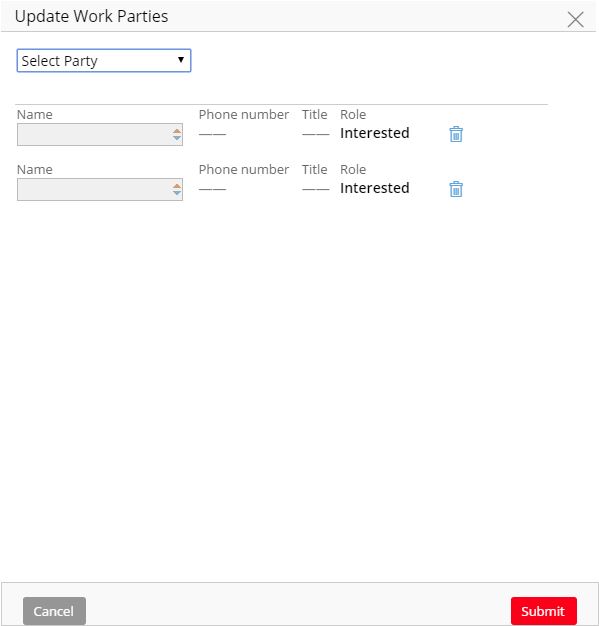 The two section rules used are, pyNewWorkPartyDetail and pyNewWorkPartyDetailRepeat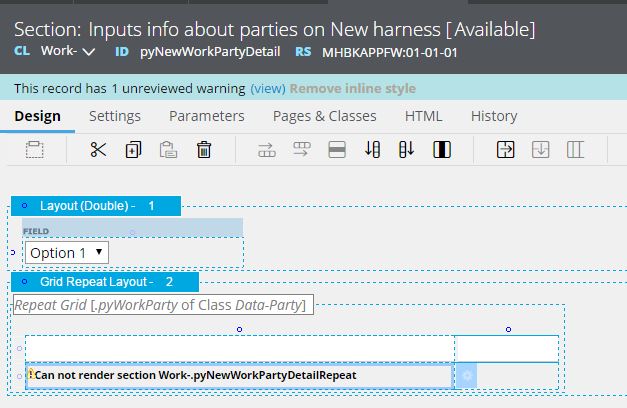 Show More
Posted: 15 Oct 2015 23:42 EDT
Posted: 16 Oct 2015 0:28 EDT
I have used the same feature multiple times and so far never noticed this gap. Let me try it again local.
Posted: 17 Jan 2018 1:25 EST
Vidyaranjan AV (Vidyaranjan)
Senior Online Community Moderator
Pegasystems Inc.
IN
Hi,
Thank you for posting your query in the PSC. This looks like an inactive post and hence, we suggest you create a new post for your query. Click on the Write a Post button that's available on the top right pane of this page. Once created, please reply back here with the URL of the new post.
You may also refer this discussion link as a reference in the new thread.