Posted: November 19, 2015
Last activity: August 22, 2016
Posted: 19 Nov 2015 9:37 EST
Last activity: 22 Aug 2016 18:43 EDT
Closed
Hi Is there a way to get a report that shows all operators and access group assigned to that individual
Hi Is there a way to get a report that shows all operators and access group assigned to that individual.as there are many
I need to see all operators and there levels of access.
I have checked in PEGA 7   designer studio/org & Sec/ Organisation/ Operators and there is no way to export the list.
Also checked Reporting and unable to see anything there.
Thank You.
Share this page
Facebook
Twitter
LinkedIn
Email
Copying...
Copied!
Posted: 20 Nov 2015 7:15 EST
There is a list view called "BrowseOperators". If you are in the designer studio, just search for this listview and you can get to it. Run, export the results to excel.
I guess you have access to Designer Studio. PegaRULES:SysAdm4 role (as an example) is sufficient since Read/Write/Delete rules settings on Data-Admin-Operator-ID class are enabled upto Production environment for this role. If you have a custom role, adjust the settings to allow your access to rules of OperatorID class.
If you want to navigate to Operator ID class, Select "App" in the Explorer Panel options and expand List View rules under Reports category as shown.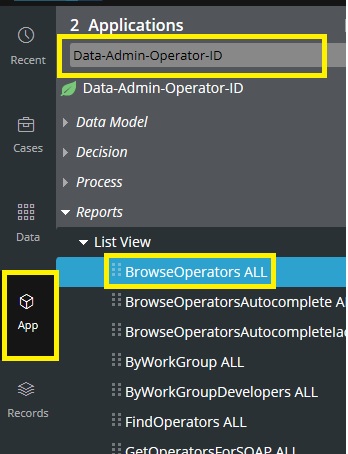 Posted: 6 years ago
Updated: 6 years ago
Posted: 24 Nov 2015 5:02 EST
Updated: 24 Nov 2015 7:35 EST
Posted: 25 Nov 2015 3:13 EST
Go to Actions > Run then you will see report output in a pop-up window as shown. Click on "View in Excel".
Posted: 25 Nov 2015 4:54 EST
Posted: 25 Nov 2015 16:29 EST
you can retrieve them from Index-Operator i.e. pr_index_operators table