Patrick Meighen (PatrickM5147) 6k Systems Inc

6k Systems Inc
US
Posted: December 28, 2018
Last activity: January 9, 2019
Posted: 28 Dec 2018 18:17 EST
Last activity: 9 Jan 2019 3:25 EST
Closed
Does the Exercise System acutally work?
I've been unable to get the exercise system to work. I've posted several message on these boards but have received no responses. Has anyone been successful in getting the exercise system to run or receive any helpful support from this site?
Share this page
Facebook
Twitter
LinkedIn
Email
Copying...
Copied!
Posted: 2 Jan 2019 5:19 EST
Miki Muzsi (MikiMuzsi) PEGA
Senior Manager, Curriculum Development, 1:1 Customer Engagement
Pegasystems Inc.
NL
I can only answer about the Customer Engagement related courses.
So, regarding Pega Marketing, all exercises are on the cloud. What exactly are the issues you are facing? Please be specific what exactly is not working (which course/module, which exercise, and which step - which minute from the solution video).
In addition please feel free to share the exercise system URL that you are using. 
Thanks
Miki
Posted: 2 Jan 2019 5:41 EST
Jeroen van Nieuwenhuizen (vannj) PEGA
Project Delivery Leader
Pegasystems Inc.
NL
Hello Miki,
Thanks for your reply. The course content is available. Video's do work. However in almost every module there is a practice what you have learned section. This has a button to request for a training environment. When clicking that button its starts provisioning a training environment. This runs for 2 minutes and then goes back to the request cloud instance message. I have tried this for earlier exercises which were working earlier this week as well (same result) but now stuck here  (course https://academy.pega.com/library/74/pega-marketing-consultant):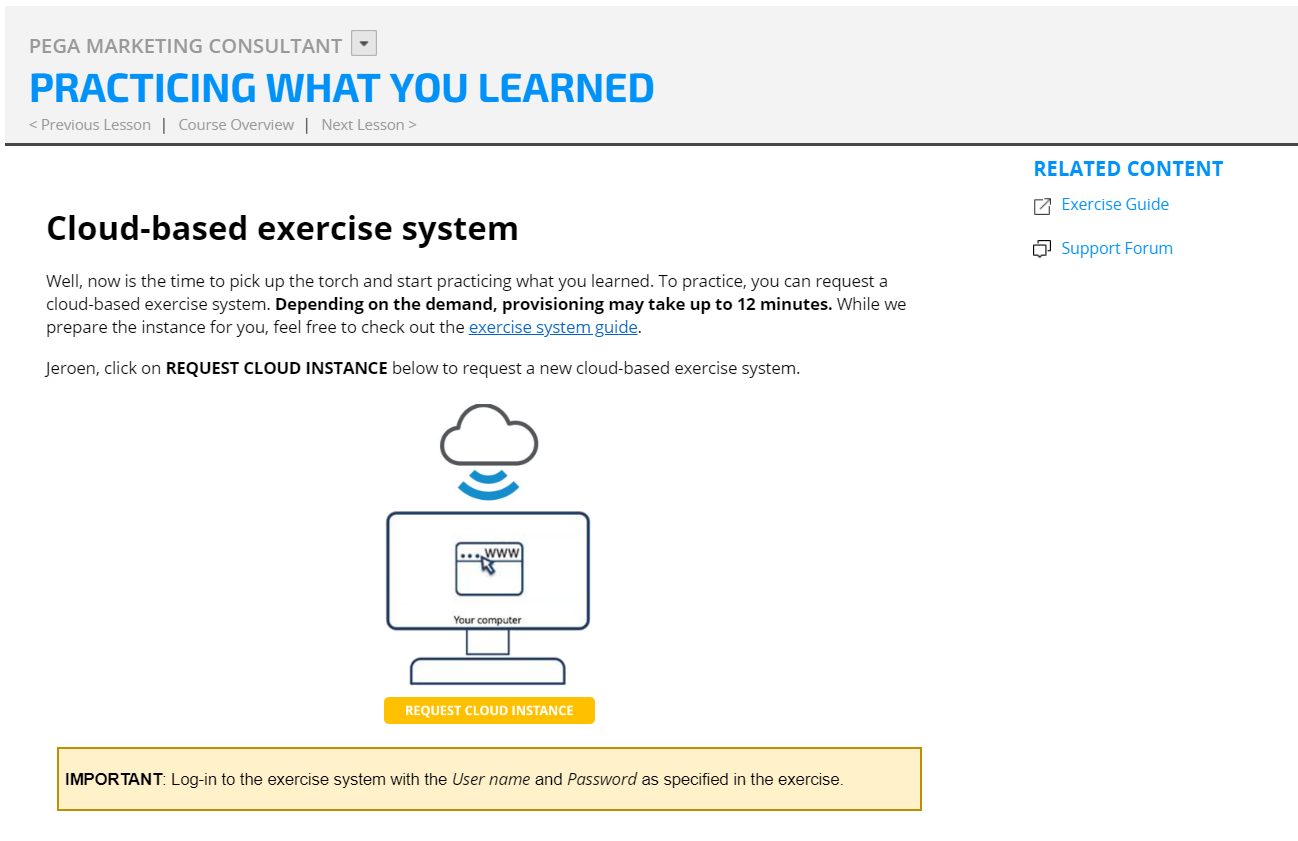 Posted: 2 Jan 2019 6:03 EST
Jeroen van Nieuwenhuizen (vannj) PEGA
Project Delivery Leader
Pegasystems Inc.
NL
Thanks Miki. Let me know if I can test something. Hope I can still make some training progress today :-)