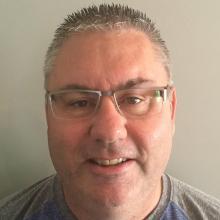 Rob Jago (Rob_Jago) Serialized Solutions Inc
Pega Certified Senior System Architect
Serialized Solutions Inc
CA
Posted: May 26, 2017
Last activity: Jun 25, 2017
Posted: 26 May 2017 18:02 EDT
Last activity: 25 Jun 2017 20:24 EDT
Closed
PegaWorld 2017 Excitement growing
Less than 10 days to go…
Recall the excitement you would have when you were an 8 year old and the next day was a family event/holiday where gifts were given and/or exchanged? Getting to sleep was difficult and after 2 hours of sleep you were ready to go; much to the chagrin of your parents.
I hope I have been able to portray the excitement that I have with regards to the upcoming PegaWorld 2017 event@ MGM Grand, Las Vegas, Nevada, United States. This will only be my second time to this event but I have so many questions and more areas that I want to learn/explore.
Perhaps it's my naïve "newness " to the event and not an "old-hand" for these events but when you have roughly 4,500+ people going to one event (last year I was told it was 3,500+), it provides the ability to meet so many people in different varying journeys in their personal life and with Pega. So much to learn and so many people to meet; and not enough time…. For those that have been there more than 5 continuous years along with other events, I can understand how much of a "drain" this event could be, but at the moment, I am not there yet.
In fact, I have a strategy this year that I am excited to see how it works. What is my strategy? Nothing earth-shattering, challenging or even new to experienced event-goers; It is mostly to try and meet as many people as possible with the possibility of exchanging contact information to continue the Pega discussions in the future long after the event is over. I have a hotel room, but not sure how long I will be in it; last year I left at 7 am didn't get back until midnight; I don't expect anything different this year.
So much has changed from last year's PegaWorld. I gained the following certifications: CSA and CSSA and trying for the 3rd at the start of the conference. Did you know if you try for a certification at the conference and you unfortunately fail, Pega gives you a re-take voucher? If you are close to being ready, why not try, you have nothing to lose! I have learned a fair bit about Robotics in the last 2 months but knowing full well that I still need to learn more [Answer: Tech Pavilion (https://www.pega.com/events/pegaworld/tech-pavilion) is where I will find more info]
So, with all that in mind, what specifically has me excited? Well, let me re-phrase my excitement in terms of questions:
How much knowledge-gained power can be packed into one day of training workshops?

Who gains the bragging rights from the ping pong tournament?

What cool concept is Kerim Akgonul's keynote going to leverage?

How many draws will Alan have during the chess tournament?

What cool integration feature is going to be displayed in the Tech Pavilion?

What cool features/applications have Pega partners assembled over the last year?

What is the future of Pega / product suite roadmap?

What creative solutions have clients undertaken?

Will the "personal concert" by Sheryl Crow be as great as last years' "personal concert"?

Will the same drummer (as last year) be back for "crowd warm-up"?

https://www.pega.com/events/pegaworld/entertainment

Will the pre-concert food be as great as last year?

Overall adrenaline or "blow-your-mind thoughts" of what the Pega product line can empower the clients to do.

What interesting Robotics (RPA/RDA) solutions have been done by clients

How is the journey of the clients proceeding?

Some clients have been gracious enough to share their Pega journey at PegaWorld through many years.This has shown their evolution and they have graciously shared the lessons learned.For example, for 3 years in a row, the New Jersey Courts System has shared their Pega journey.

Don't forget the most important part, how many new networking contacts did you meet for follow up?How many new LinkedIn connections will you gain?

I think I got 25 last year and hope to increase that dramatically this year.

Will there be more than 5,000+ participants this year?How many of them will I know?

Fun fact:I have been told that last year there were 3,500+

What is Don Schuerman going to wear to Hakkasan?

Fun fact: Did you know that some of the booths at this bar sit about 12 people? Did you also know to reserve these booths cost about $1,000 USD, for one night; (is this true or not? granted insight was from bar bouncer)

Given that tidbit of knowledge, did you know PegaSystems has booked the whole bar most of the night?It's got three levels!

Will the initial lead-up minutes before the start of the daily keynotes be as inspiring/energizing as last years'?

And you can't forget for those that stay for the bootcamps, a day of focus knowledge gained.They are a full day of knowledge on the topic of your interest.

I think I might have to find, borrow or buy a step counter for the week!

See you in Vegas,

Rob

#catchmeifyoucan

LinkedIn: https://www.linkedin.com/in/robjago/

Twitter: @aWork_Rob