Posted: Oct 8, 2015
Last activity: Dec 19, 2015
Posted: 8 Oct 2015 7:41 EDT
Last activity: 19 Dec 2015 11:09 EST
Closed
Case manger portal display corrupted
HI ,
When I open the case manger portal its showing below one. It was worked till the last week.from yesterday onwards i am getting like below one. Please help me. Thank You !!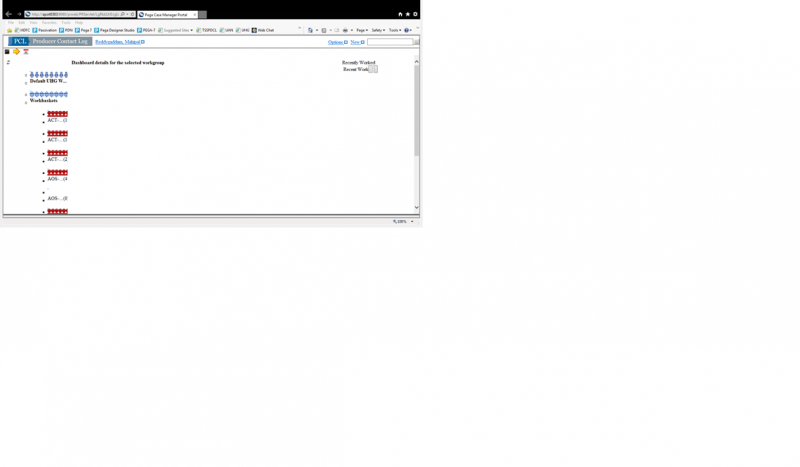 Share this page
Facebook
Twitter
LinkedIn
Email
Copying...
Copied!
Posted: 8 Oct 2015 8:02 EDT
Hi ,
Is the issue only with your login or is it happenning with everyone ?
Have you tried on any other browser ?
Mostly its a cache issue , try clearing the browser cache and see if it works.
Posted: 8 Oct 2015 9:24 EDT
Hi, Its Happening to all users. Crome also same issue . I tried with clear the browser cache as well its not working.
Posted: 8 Oct 2015 21:25 EDT


Mohammad Ruknuddin (RUKNUDDIN_INCESSANT) Incessant Technologies
Pega Consultant
Incessant Technologies
US
Hi, Try once by re-saving pyCaseContainer section or the section that is being referred in your Perform harness. Looking at your screenshot,I think the whole work section is getting displayed in pycasenav section, check it out with Live UI, that may help. Thanks
Posted: 9 Oct 2015 4:16 EDT
Hi Ruknuddin, I tried this option as well its not working . If switch to other portal other than pycasemanger or pycasework portal its working fine we raised a reuest to restart the server let see if it work .
Posted: 9 Oct 2015 5:13 EDT
If you are restarting . make sure to clear the cache before restarting the server . 
Posted: 9 Oct 2015 11:19 EDT
Possible issue could be because of truncation of cache from db or server , did you truncated any of the cache table?
Posted: 9 Oct 2015 11:24 EDT
No, We haven't truncated any cache table.
Posted: 9 Oct 2015 11:41 EDT
We had similar issue, got solved when we deleted the marker file and restarted the server.
Posted: 17 Dec 2015 4:59 EST
Do not just truncate , ask for exact steps to delete cache from pega and follow the instruction
Posted: 19 Dec 2015 11:09 EST Shivendra Kumar (shivendrak6931) Cognizant
Shivendra Kumar
Cognizant
IN
Faced same problem, and restarted server after clearing the browser cache, as suggested in the discussion above, and also the rule cache.
Thanks to all it is working now.