Lochana Durgada Vijayakumar (Lochan_DV) PEGA
Senior Manager, Knowledge Management
Pegasystems Inc.
IN
Posted: September 16, 2019
Last activity: March 24, 2020
Posted: 16 Sep 2019 6:52 EDT
Last activity: 24 Mar 2020 10:06 EDT
Closed
Ask the Expert - Pega Predictive Diagnostic Cloud with Andy Werden [2019 Edition]
Join Andy Werden (@WERDA) in this Ask the Expert session (23rd-27th September) on Pega Predictive Diagnostic Cloud.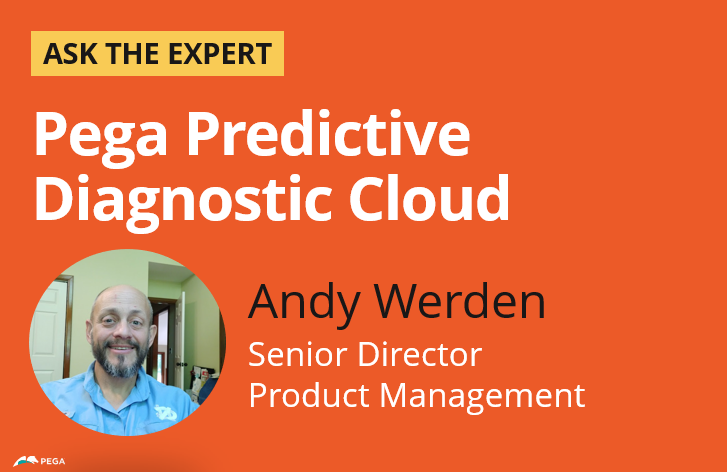 Meet Andy Werden: Andy is a seasoned subject matter expert on PRPC performance, operations and scalability. Prior to joining the product management team in 2017, he managed and lead the technical consulting practice for the Americas. In his spare time he is a really slow runner, a bad biker, a seriously sad swimmer and a terrible triathlete. Andy is an exiled New Yorker who lives as a pseudo-southerner in Chapel Hill NC, where he pretends to passionately follow college basketball (Go Tarheels!).
Message from Andy Werden: Happy to have the opportunity to help you use PDC to keep tabs on system performance and quality and drive you continuous improvement governance process. I look forward to getting feedback on how PDC is working for you and how we can continue to make the PDC service better.
Follow the P

ega

Support Community's

Community Rules of Engagement

This is not a Live Chat -

Andy

will reply to your questions over the course of the week

(23-27 September)

Questions should be clearly and succinctly expressed

Questions should be of interest to many others in the audience

Have fun!
Share this page
Facebook
Twitter
LinkedIn
Email
Copying...
Copied!
Moderation Team has archived post,
This thread is closed to future replies. Content and links will no longer be updated. If you have the same/similar Discussion, please write a new Discussion.
Posted: 19 Sep 2019 16:09 EDT Kavitha Ethirajalu (KavithaEthirajalu) Ucare
Kavitha Ethirajalu
Ucare
US
I thank pega support for these expert sessions. My queries are on PDC.
1. can you share doc or diagram of  PDC architecture.
2. When the data is send to PDC , what is the data retention policy offered by pega PDC. Does it have any archival strategy.
3. Does the PDC SOAP calls have OAuth or any other any other access token for the authorization when we send the data to PDC.
Much Appreciated!
Posted: 21 Sep 2019 3:23 EDT
sai suraj kopparti (saisurajk) S & P Global Company Ltd

S & P Global Company Ltd
IN
This comment/reply has been branched into a new post
Posted: 23 Sep 2019 8:21 EDT Shuvadeep Das (ShuvadeepDas) Areteans
Associate Architect - Delivery
Areteans
IN
Thanks for organizing a session like this.
I have a question about evaluating the system performance from the data accumulated in PDC.
As the development team is identifying and resolving alerts, what are the metrics we can monitor in the system, or reports which would visualize the improvement achieved because of alert resolution.
Sorry for being vague in my question but we have started they journey of assimilating PDC in our day to day development work and would appreciate in any feedback on this question, or best practices to follow.
Thanks,
Shuvadeep
Posted: 24 Sep 2019 5:56 EDT Andy Werden (WERDA) PEGA
Senior Director, Product Management, Observability Services
Pegasystems Inc.
US
As a broad statement, our goals are always to improve system response and reduce the exception counts.  The System Assessment and Usage Viewer give good information on performance. I personally use the improvement plan to identify and prioritize exceptions that need investigation.  There's not at present a good OOTB report to that shows total exception count by day but it was easy to go to custom reports and knock out a nice chart; will need to add that in an upcoming build.

So - the goals are simple:

- reduce average interaction response time
- reduce the exception count
- increase number of users
- increase interactions (use of system) 
Posted: 3 years ago
Updated: 2 years ago
Posted: 24 Sep 2019 13:46 EDT
Updated: 22 Jan 2020 1:57 EST
Hello! 
I have several questions on the PDC. They are:
1. Why are the operators by System set to 0?  I have added atleast 1 user for serveral systems, but it displays 0. See PDC OperatorsBySystem.pdf for an example.
2. On the Set System URLs tab, do the URLs need set?  Since there is a one way communication, I don't see why the URLs need set. 
3. There are default users setup that I did not add, such as - lewcn, nowam1, tyrka, tyrkm. Can I delete them?
Thanks!
Fred.
Posted: 3 years ago
Updated: 2 years ago
Posted: 24 Sep 2019 14:27 EDT
Updated: 22 Jan 2020 1:57 EST
Hi Andy, 
When you click on Enterprise, the list of monitored applications display.  Then, you click on a system and you can see the Health, DB Query Stats, Database Usage tab, etc. 
On the Health tab for the system details, the system hash value is displayed. It is hard to relate back to the specific system that is passing the data.  Is there a way that the Node Short Description can be displayed instead of the hash value? 
Thanks!
Fred.
Posted: 3 years ago
Updated: 2 years ago
Posted: 26 Sep 2019 11:00 EDT
Updated: 22 Jan 2020 1:57 EST
Hi Andy, 
I have a couple more questions on PDC. 
1. Are there any plans to integrate with HP Service Manager? 
2. When looking at the system details, there is a place to add the SMA URL. I'm assuming that is a leftover from AES. Is that correct?
Thanks!
Posted: 3 years ago
Updated: 2 years ago
Posted: 26 Sep 2019 16:02 EDT
Updated: 22 Jan 2020 1:57 EST
Hi Andy, 
I have added a Pega 7.1.8 system to the PDC. I have applied HFIX-26497. I have restart the system after the hotfix was applied. I have 2 questions. 
1. The Production level is set to 0.  Is there something else that I need to do for the production level to show? 
2. The 718 system I have added has 2 jvms which are horizontally clustered. Only one JVM shows in the Enterprise listing.  Is there something that I can check/modify to see why only one JVM is listed? 
Thanks!
Posted: 27 Sep 2019 1:44 EDT Shuvadeep Das (ShuvadeepDas) Areteans
Associate Architect - Delivery
Areteans
IN
Hi Andy, 
Thanks for answering my previous query. I have a few more questions around a PDC case and its lifecycle.
1. I have observed that the priority field of an alert case gets calculated based on the number of events and frequency of those events. If number of events are high the priority of that case is also high. But I have also seen that even if for some alert cases the number of alert occurrences is 0 over a period of time (2 or more days), the associated priority of the case is not reduced. Can you explain the reason behind it ?
2. Some alert cases are resolved automatically with status - Resolved-NotSeen status if the alert is not seen for a number of days. Can you tell what is that duration and is it dynamically chosen based on case to case basis. 
3. What are the possible status of a PDC case can have and when those status are assigned, till resolution. What are the different resolution status can we have. Simply put a case life cycle diagram of an alert case would help along with the status at specific stages or steps.
Thanks
Shuvadeep 
Posted: 27 Sep 2019 7:42 EDT Andrea Loris Gialain (AndreaG86) Accenture SPA

Accenture SPA
IT
Hi Andy,
thank you for the support, i can't find instructions on how to install PDC on legacy system (7.1.9) and hotfix to apply and also if is fully compatible with last PDC version.
Thank you
Best Regards,
Andrea
Posted: 30 Sep 2019 3:50 EDT
Lochana Durgada Vijayakumar (Lochan_DV) PEGA
Senior Manager, Knowledge Management
Pegasystems Inc.
IN
Thank you for the great discussions! Thank you to Andy for being a great expert!!
Please continue asking your questions on PDC by creating new posts.