Marissa Rogers (MarissaRogers) MOD
Principal Knowledge Management Specialist
Pegasystems Inc.
US
Posted: Apr 7, 2022
Last activity: Apr 22, 2022
Posted: 7 Apr 2022 15:06 EDT
Last activity: 22 Apr 2022 15:53 EDT
Closed
Ask the Expert - Deployment Manager with Meenakshi Nayak and Pallavi Gurram
Join Meenakshi Nayak @nayam and Pallavi Gurram @gurrp1 in this Ask the Expert session (April 11 - April 22) as they answer your questions on Deployment Manager!
Be sure to Favorite and Follow for updates! This session will open to questions from you on the 11th of April!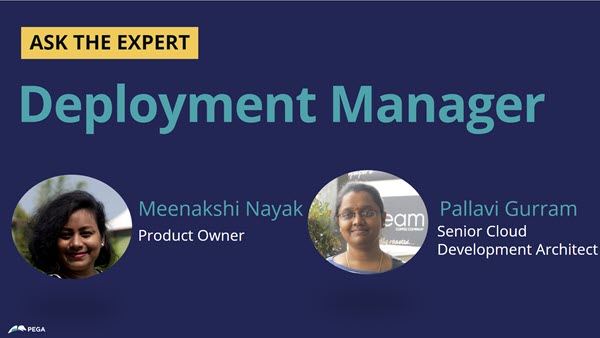 Meet your Experts:
Hi, my name is Meenakshi and I am the Product Owner for Deployment Manager and the DevOps practices in general with Pega Application. I have been with Pega for a 1.5 years and my journey here has been fantastic! I started my career as a full stack developer and have 7yrs of development experience. I was introduced to DevOps in 2014 with a mindset that it should be a short project however I got fascinated with PowerShell scripting so much that I continued with creating a custom framework to deploy heterogenous technologies and have now been involved with DevOps for 8 years!
We are constantly evolving and I play a key role in creating that vision for the product, Without hearing from the users, a critical part of my role is incomplete.
Hi, my name is Pallavi and I am an Architect for Deployment Manager! i started my career as a Java developer and have 7 years of development and design work in Java. The rest of my experience is with Pega development and designs! The past 2 years I have been dedicatedly working on Deployment Manager architecture and design.
Message from your Experts:
We are pleased to address all of your questions on the Pega Deployment Manager. Over the course of the session, we will be answering your questions on Deployment Manager, Deployment best practices and how Deployment Manager adds value over any other tools when Pega applications deployed automatically. We look forward to hear from you all. We welcome any feedback from your experience with Deployment Manager as we strive to make Deployment Manager easy to use and add value to serve the unique needs of our users. 
Before we get started, here are some essential links that can help you learn more about the product – 
Integrate with external tools with Build your own task   
Deployment Manager Mission on Pega Academy 
Share this page
Facebook
Twitter
LinkedIn
Email
Copying...
Copied!