Chithra Jayakumar (jayac2) PEGA
Senior Principal Software Engineer, Shared User Services Engineering
Pegasystems Inc.
US
Posted: Nov 12, 2018
Last activity: Nov 27, 2018
Posted: 12 Nov 2018 9:01 EST
Last activity: 27 Nov 2018 11:31 EST
Runtime authoring capabilities with section using design templates
If you have sections using design template as part of your case processing one of the greatest benefit is its capability to allow runtime editing. This capability is available only with specific user access like a developer or an application user since the runtime changes are saved to ruleset as and when changes happen. For example, during runtime when there is a need to change the layout of a section one can toggle to the "Design mode" which would highlight sections that are available for editing. Opening the highlighted section for editing is the gateway to endless options for runtime authoring. There are added capabilities in runtime authoring with every release which makes life of the authored users easier by not switching to design time to make certain changes.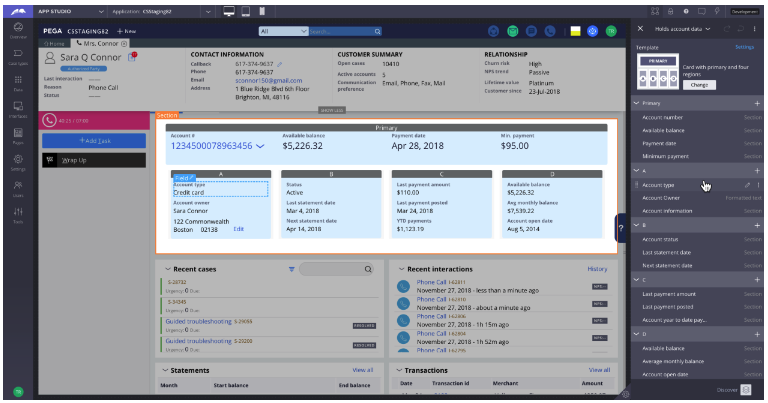 To turn on runtime authoring select "Design mode" on the top right composer bar nav in App Studio
When there is section using design template in the case content area then they are highlighted indicating that the section can be edited by selecting the pen icon on the title bar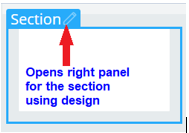 Some of the highlights that cannot go noticed when you are in the runtime authoring for a section using design template:
Change its template layout to a different type
Configure its fields using form builder
Edit its own properties
Override region settings of its template
Add a new field or a section or a control (icon or paragraph) that are available from its relevant record
Edit its fields that are contained in it as well copy, cut, paste or delete that field. List of properties that can be edited for a given field is limited.
Move (drag and drop) the fields to a different position within given region or to a different region as needed
Above all is reverting any of the changes made when in the runtime authoring.
The beauty of it all is when you make the those changes you could see them in action as it happens and discard it if not needed within that authoring period. One can undo or redo up to last 10 interaction. Once the authoring has ended the changes cannot be discarded at runtime so one must go back to design time and make those changes.
Latest UIKits include out of the box section using design templates (like pyCaseMainInner, pyCaseDetails and pyCaseActionAreaHeader under the class Work-) which could serve as a starting point for beginners who want to understand this feature. If a section is marked as "WorkArea layout" at design time it will have its unique capabilities and not have all the options mentioned for section using design template.
One other topic of discussion would be grid runtime authoring even though it is not part of section using design template. Currently section using design template does not support grid but one can wrap grid in a regular section and include that section as part of a section using template to get its runtime authoring capabilities. In this scenario, one can mark the grid as "Editable in App Studio" to edit its property and its column property.
There are some limitations to this offering which includes:
Grid must be sourced using datapage
Grid must be wrapped in a dynamic layout
This article talks about high level features of section using design template. To understand more on how to create and use design template, when to use them and what are its limitations here are further readings that could help: