Srikanth Pothkanuri (poths1)
Principal Cloud Development Engineer, Application Deployment
Pegasystems Inc.
IN
Posted: July 19, 2020
Last activity: August 1, 2020
Posted: 19 Jul 2020 5:30 EDT
Last activity: 1 Aug 2020 2:29 EDT
Migrating Operators using Deployment Manager
When we are migrating applications including data, if there are changes in operator instances and if the operator records are associated to any of the application rulesets, then they will also get packaged and migrated to higher environments.
Operators records should be considered as environment specific configuration and it would be a security risk to copy operator records from one environment to another,  and we strongly recommend not to package operators as part of deployments.
Here are somethings to consider if the operators records do end up as part of package for deployment.
The operator records will be disabled by default and need to be updated manually after deployment.
If the operators are marked as aged updates,, selecting the "overwrite" option will deploy the operator as enabled along with the password.
If you are deploying operators along with package and got aged updates on operator instances, make sure before you click on "overwrite" option because it deploys the operator as enabled along with the password.
You can easily bypass packaging of operator instances automatically by configuring the product rule as below:
    a) Go to "Deployment" tab on the product rule.
     b) Add an entry for "Data-Admin-Operator-ID" in "Bypass updates for class instances on import".
  Refer to below picture for configuration: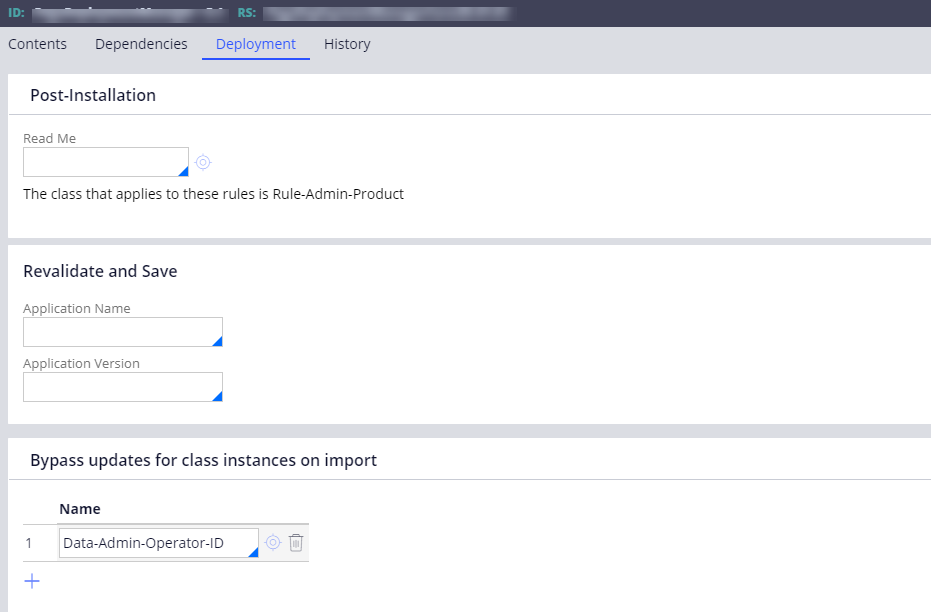 This is a frequently asked question about Deployment Manager. Find more answers here.
***Edited by Moderator: Pallavi to change category from General to Product***