 Braam Smith (BraamCLSA) PEGA
Partner Success Tech Lead - APAC
Pegasystems Inc.
AU
Posted: October 29, 2020
Last activity: October 29, 2020
Posted: 29 Oct 2020 1:28 EDT
Last activity: 29 Oct 2020 6:51 EDT
Branching in App Studio: What do I need to know? [LSA Data Excellence]
Both Dev Studio and App Studio now allow the developer to choose the default branch that all rule changes will be saved to. This is particularly useful in App Studio where the user experience of saving rules is very transparent to the user. Pega determines the rule name, Applies To class, RuleSet, and now: Branch for a saved rule without prompting the user. Meanwhile, in Dev Studio, the default branch preference influences the defaults shown on the Save form for new and copied rules.
From the Branch icon towards the top-right of either studio, simply choose (or switch) the application layer and/or branch you want to take effect as your new default.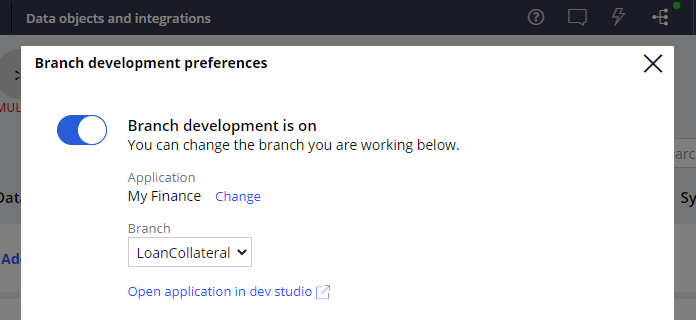 There is also the option to create a new branch, even from App Studio. 
The selection you make take effect for you and will be remembered the next time you log in. Note that you are not setting a default for your team, for each team member is most likely working on a different feature.
Discussion on this topic was sought from the LSA Data Excellence (Pega 8.4) webinar conducted in July 2020. The webinar and its full set of discussions that arose from it are available at LSA Data Excellence: Webinar, Questions & Answers. 
***Edited by Moderator: Pooja to add Developer Knowledge Share tag***