Marissa Rogers (MarissaRogers) MOD
Senior Knowledge Management Specialist
Pegasystems Inc.
US
Posted: February 23, 2022
Last activity: March 15, 2022
Posted: 23 Feb 2022 11:11 EST
Last activity: 15 Mar 2022 11:12 EDT
Closed
Ask the Expert -Scenario Testing with Madhuri Vasa and Rajesh Venkata
Join @MadhuriVasa and @RajeshVenkata in this Ask the Expert session (March 1 - March 14) as they answer your questions on Scenario Testing!
Be sure to Favorite and Follow for updates! This session will open to questions from you on the 1st of March!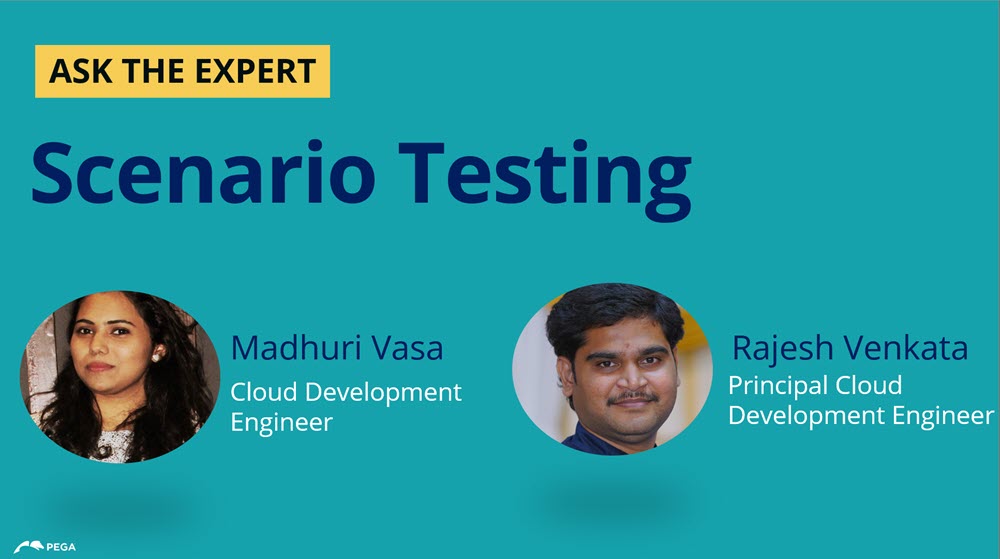 Meet your Experts:
Hello, I'm Rajesh and am currently a Principal Cloud Development Engineer focusing on Quality and Test Automation solutions like Scenario testing, Pega unit etc. I have close to 9 years of experience in product development and am an expert in delivering scenario testing features, with last few years focused on Designer Studio, Scenario testing and related tooling solutions in Pega Platform. 
Hello! I'm Madhuri and have about 4+ years of experience in the test automation space as Pega developer. I've worked as a Java developer prior to this. I'm a certified System Architect and have experience in designing, implementing and maintaining test automation frameworks. I have good expertise in ramping up teams with feature explanation through demos to leverage the automation tools.  
I work from India, Hyderabad and immensely happy to interact and share the best of my knowledge. 
Message from your Experts:
We are pleased to join the Pega Collaboration Center's "Ask the Expert" event and welcome all of your Scenario testing questions. Over the course of the session, we will be answering your questions on Scenario testing, best practices around it in general and broadly on usage of Scenario testing framework and its benefits. We look forward to this session and helping you improve quality of your Pega Applications.
Check out the Developer Knowledge Shares that Madhuri and Rajesh have written here in the Pega Collaboration Center!
Test coverage feature for CaseType using PegaUnits
Ignoring test ruleset from Test coverage
Attachments support in scenario testing