Subbarao Tatikonda (tatis) PEGA
Technical Lead, Cloud engineering
Pegasystems Inc.
IN
Posted: May 6, 2020
Last activity: May 11, 2020
Posted: 6 May 2020 4:05 EDT
Last activity: 11 May 2020 1:16 EDT
Application Quality Settings
Application quality settings landing page allows you to set various configurations related to application quality.
Configuring the application stack for quality metrics
         This configuration helps you to choose the applications for which you wish to view/generate quality metrics for.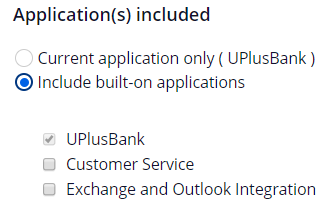 You have a choice to select current application or include built-on applications while generating the quality metrics in various places of the application.
This setting will be used for the below features in the application.
    AQD (Application -> Quality -> Dashboard)
     All the metric generation in the dashboard considers the applications selected in the settings.
For example, executable rules count will be picking the rules from both the applications UplusBank and Customer Service if both are selected in the settings otherwise rules from UplusBank only picked up for the count with the default option selected.
Similarly, metrics in Reports landing page (Application-> Quality-> Automated testing -> Unit testing -> Reports), Test cases and Test suites are also including the applications from this quality setting.
And, the same setting is applicable for Test coverage feature (Application-> Quality-> Test coverage).
Ignore test rulesets for Guardrails score
         This setting helps you to ignore the test rulesets while computing the guardrails score.

The rulesets which are marked as test rulesets are not considered for guardrail score calculations when this setting is checked. So, the guardrail warnings of the rules from these rulesets will be ignored while calculating it for the application. The same score will be reflected in AQD.
Duration for quality trends
         This setting will help user to draw a quality graph in AQD dashboard and Test coverage landing page based on the past duration. The time can be between Last 1 week to 6 months.
If user selects the option "Last 2 weeks" then the AQD records of that time period will be retrieved to draw the graphs in both AQD and Test coverage landing pages.
Test case execution
         This setting will help user to mark a test case as "Not run" if it did not execute for a period.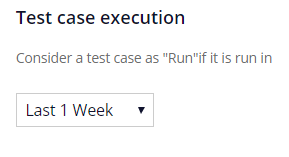 If you select "Last 1 Week" then a test is marked as not run if it was not run within last 1 week. In test case landing page as well as in test execution summary, this test's execution status is represented as "Not run". This configuration must be set to suite your preferred test execution frequency, so that you know when a test is not run in the specified interval.
Delay for scenario tests
         This setting helps user to define the time delay for the scenario test execution.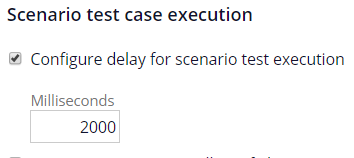 This time delay is taken into consideration while executing every step in the scenario test case. It executes a step and wait for 2 seconds to execute next step's actions. This ensures the rendering of the UI elements on to the client before performing any actions.